This
post
was originally published on
this site
It's not just locked-down Americans with no access to the gym over the past few months who are looking to get more active.
The exchange-traded fund industry seems to be on the same path. While only 2% of ETFs were actively-managed as of about a year ago, 2020 has seen a flurry of new launches of active products. And investor interest – and expectations for more widespread adoption – are strong, according to a survey out Monday.
J. P. Morgan Asset Management's Global ETF Study for 2020 was conducted during a particularly fraught moment: late March to early April 2020, when global financial markets were unnerved by the novel coronavirus. Still, the firm found 320 firms globally to survey, ranging from independent wealth managers to insurance companies to private banks.
Survey respondents see allocations to active and smart-beta funds rising to nearly 40% of their client portfolios over the next few years.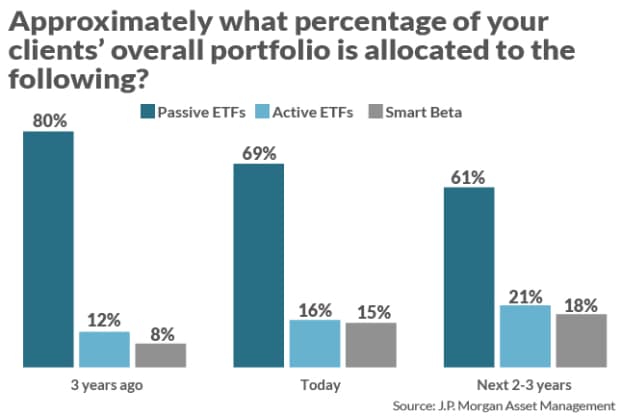 Respondents expect funds with environmental, social, and governance aims, and thematic ETFs, to see the most growth.
Of note, larger investors are likely to see active ETFs as a good way to access ESG and for adding alpha to portfolios, while investors with less assets under management said they think active ETFs are good tools for portfolio diversification.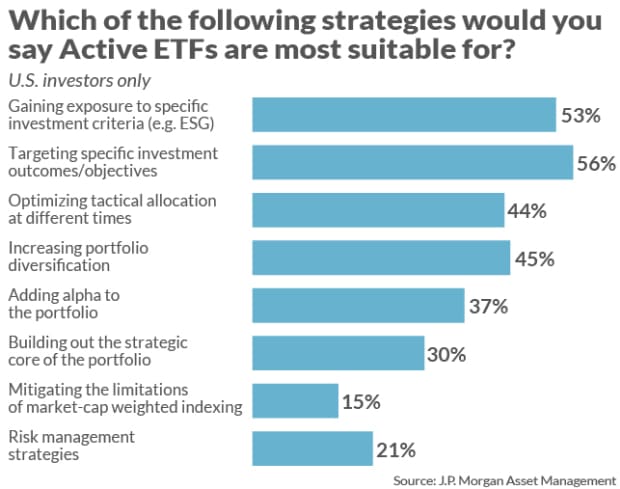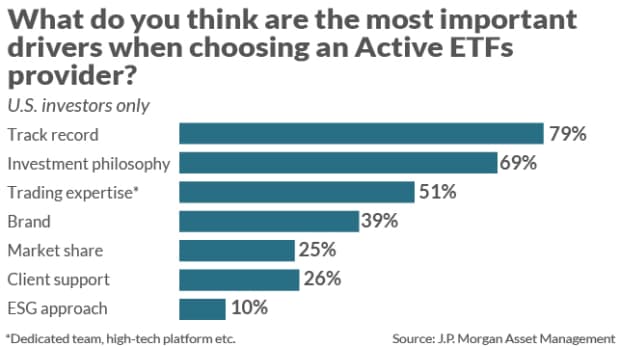 It's worth noting that J.P. Morgan may not be an entirely passive, pardon the pun, observer of these market trends. The firm has launched several actively-managed ETFs, including the popular JPMorgan Ultra-Short Income ETF JPST, +0.01% profiled by MarketWatch last year as a worthy alternative to cash management in a lower-for-longer world.
Still, 2020 hasn't just been a year in which new active funds have launched, it's also been a period in which some active managers have proven themselves. Two funds from ARK Investment, the ARK Innovation ETF ARKK, +3.94% and the ARK Genomic Revolution ETF ARKG, +5.68%, have easily bested the broader market this year, returning about 78% so far, while the Nasdaq COMP, +1.73% has gained 30%.