This
post
was originally published on
this site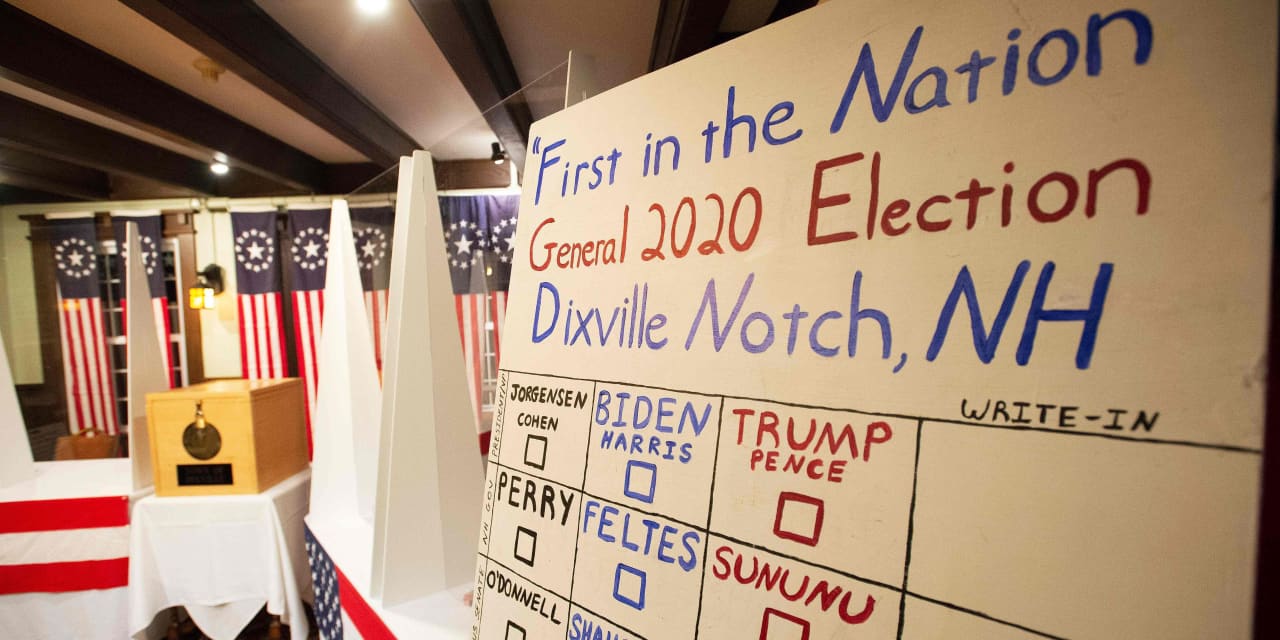 U.S. stocks were poised to rally for a second session on Tuesday as investors braced for pivotal elections that could frame economic and market policy in the coming four years.
The bounce back from the worst week since March is supported by bets former Vice President Joe Biden will beat incumbent President Donald Trump, and Democrats at the same time will take control of Congress, raising the possibility of further financial relief for businesses and individuals stricken by the COVID-19 pandemic, analysts said.
How are stock indexes performing?
Futures for the Dow Jones Industrial Average YMZ20, +1.52% YM00, +1.52% were gaining 412 points to reach 27,208, a gain of 1.5%, those for the S&P 500 index ESZ20, +1.18% ES00, +1.18% were advancing 38.25 points, or 1.2%, to reach 3,338.75. Nasdaq-100 futures NQZ20, +0.60% NQ00, +0.60% climbed 48.25 points, or 0.5%, at 11,111.50.
On Monday, the Dow DJIA, +1.59% rose 423.45 points, or 1.6%, to finish at 26,925.05. The S&P 500 SPX, +1.23% gained 1.2%, up 40.28 points, closing at 3,310.24. The Nasdaq Composite COMP, +0.42% advanced 46.02 points, or 0.4%, ending at 10,957.61, after flipping between positive and negative.
The small-cap Russell 2000 RUT, +1.95% outperformed, adding 2%, or 30.11 points, to close at 1,568.59.
What's driving the market?
Market participants make the case that stocks are gaining altitude in recent days because Biden is comfortably ahead of Trump in polls with hours left before voting takes place nationwide.
"Democratic presidential candidate Joe Biden is leading nationwide opinion polls by a comfortable margin of more than 7 [percentage points] over incumbent President Donald Trump," wrote analyst at UBS in a research note.
An average of national polls from RealClearPolitics has Biden ahead by 6.7 percentage points on Election Day, while a report from the data aggregator has Biden ahead in key battleground states that could determine the election by 2.3 percentage points. However, Trump maintains a slight edge in North Carolina and Biden's margin is small in Florida and Arizona.
Investors are also keying in on the possibility of a Democratic sweep of the White House and Congress. Democrats now hold a majority in the House but not in the Senate.
A report by CNN notes that at least a dozen Republican seats in the Senate are at risk of turning over to Democratic hands, including Maine, Colorado, Arizona, Georgia, Iowa, Montana, North Carolina, South Carolina, Alaska, Kansas and Texas.
"To gain a simple 50-seat majority, Democrats will need to pick up seats in Arizona, Colorado, Maine and North Carolina (they are expected to lose a seat in Alabama)," wrote analysts at Nomura in a strategy note referencing data aggregated by Politico.
"To gain a 'working majority' of 52 or more, Democrats will need to win in Georgia, Iowa, Montana or South Carolina – four states that are traditionally Republican," the Nomura analysts wrote.
Thus far, nearly 100 million Americans, including 64 million mail-in votes, have cast their ballots in the 2020 election, representing more than half of 2016's turnout, according to data provider U.S. Elections Project.
Read: How to vote safely on Election Day and make sure your ballot gets counted. 'Informed voters cannot be suppressed voters.'
Despite expectations about Election Day outcomes, the market has still not totally discounted the possibility of a comeback win by Trump which could produce a jolt to stocks, similar to market moves four year ago when Trump won the presidency in the electoral college against Democratic challenger Hillary Clinton, even though Clinton won the popular vote.
On top of that, it is possible that the results won't be known for days or weeks, which could inject fresh volatility into stocks.
" What if we don't know the winner for days or weeks? It's aggravating yes but the uncertainty shouldn't last more than a week or two but do we selloff anyway?" wrote Peter Boockvar, chief investment officer at Bleakley Advisory Group, in a Tuesday note.
The focus on Election Day comes as the COVID-19 pandemic has been gaining a fresh foothold in the U.S. and Europe in particular.
The global tally for confirmed cases of the novel strain of coronavirus has so far climbed to 46.9 million on Tuesday, according to data aggregated by Johns Hopkins University, while the death toll rose above 1.2 million. The U.S. has the highest case tally in the world at 9.3 million and highest death toll at 231,566, or about a fifth of the global totals.
Concerns about an out-of-control spread of the viral pandemic has rattled investor confidence in the past, even as investors look toward remedies and vaccines that could eventually mitigate the impact of the deadly contagion.
Check out: MarketWatch has launched ETF Wrap, a weekly newsletter that brings you everything you need to know about the exchange-traded sector: new fund debuts, how to use ETFs to express an investing idea, regulations and industry changes, inflows and performance, and more. Sign up at this link to receive it right in your inbox every Thursday.