This
post
was originally published on
this site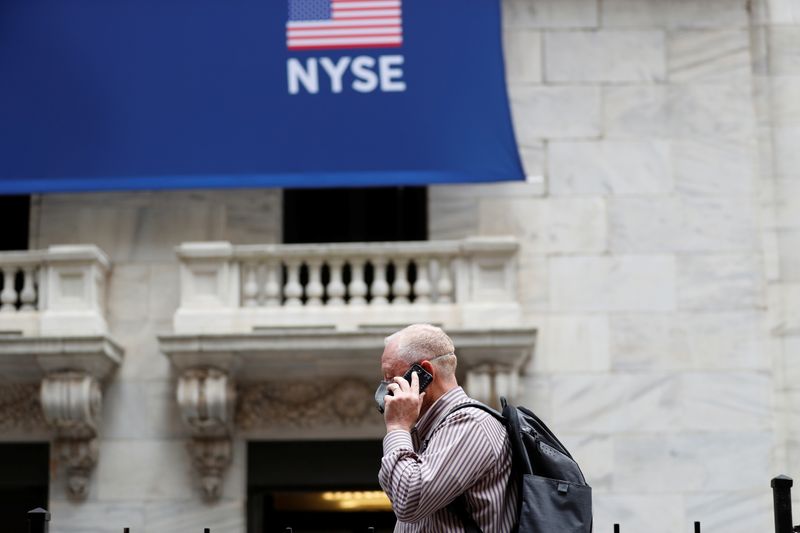 Investing.com — U.S. stock markets opened higher on Tuesday, on a wave of bets on a rapid and substantial fiscal stimulus package for the economy in the wake of elections to the White House and Congress on Tuesday
Conventional wisdom has it that such a package will only be possible if both the White House and Congress are controlled by the same party. The move thus appears to imply expectations of a 'Blue Sweep' for the Democratic Party, although the polls are far from clear about this, especially as regards control of the Senate, where 35 seats are up for grabs in today's elections.
By 9:45 AM ET (1445 GMT), the Dow Jones Industrial Average was up 385 points or 1.4%, while the S&P 500 was up 1.1% and the Nasdaq Composite was up 0.7%. in a further sign of a rotation of money out of growth and momentum stocks into underperforming 'value' names.
"We continue to expect more procyclical rotation across and within assets into next year," said Goldman Sachs (NYSE:GS) analysts in a note to clients onTuesday. ."However, risky assets might suffer if real yields were to increase further into year-end without better growth news."
A notable outlier to the trend was Alibaba (NYSE:BABA) Group. The Chinese e-commerce giant's ADRs fell 8.9% after Chinese regulators abruptly suspended the record-breaking IPO of Ant Group, the financial services giant spun ouf of the company.
After selling off heavily last week in reaction to a rapidly-rising wave of the coronavirus which prompted fears of fresh lockdowns, investors have chosen to 'look through' short-term volatility for now, despite the likelihood that the election outcome still won't be clear by Wednesday morning.
"Clarity around the U.S. elections – should we get it – will provide some uncertainty relief although better news on the vaccine is more crucial to support risky assets into year-end," Goldman analysts led by Christian Mueller-Glissman wrofe "This is all the more true now that new lockdowns are increasingly weighing on investor sentiment."