This
post
was originally published on
this site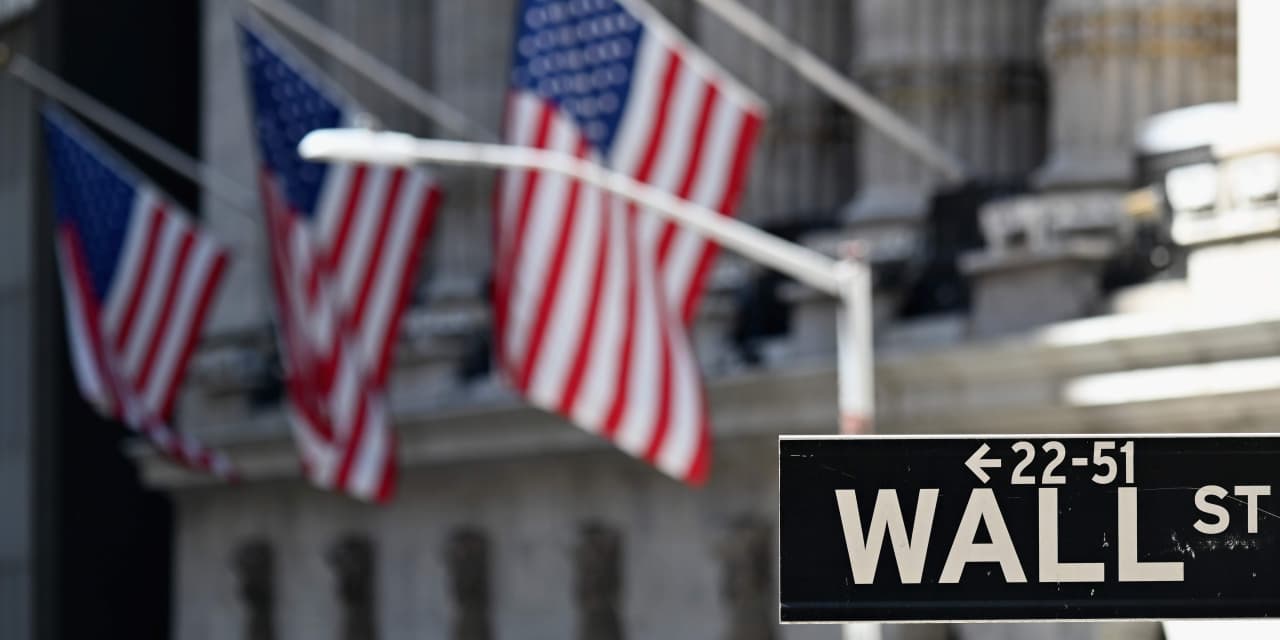 U.S. stock indexes traded sharply lower midday Thursday, with investors turning cautious as the resurgence of the COVID-19 pandemic results in some renewed restrictions on business activity, while another financial aid package from Congress looks doubtful anytime soon.
Economic data suggests a slow U.S. recovery remains on track, while Wall Street waits for more news on vaccine development, but Federal Reserve chairman Jerome Powell said a vaccine was not an immediate panacea.
How are stock benchmarks performing?
The Dow Jones Industrial Average DJIA, -0.97% traded off 374 points, or 1.3%, at about 29,023; the S&P 500 index SPX, -0.86% declined by about 42 points to reach roughly 3,530, a drop of 1.2%; the Nasdaq Composite Index COMP, -0.30% fell 80 points, or 0.7%, to 11,707. Meanwhile, the Russell 2000 fell 1.6%.
On Wednesday, the Dow ended lower by 23.29 points, or 0.1%, at 29,339.54, snapping a 2-day win streak. The S&P 500 index advanced 27.17 points to close at 3,572.72, notching a gain of 0.8%, its second-highest close ever. The Nasdaq Composite surged 232.57 points, or 2%, to finish at 11,786.43, snapping its 2-day losing streak.
What's driving the market?
Hope for a vaccine against the coronavirus is being pitted against the near-term reality of a significant rise in cases and hospitalizations in parts of the U.S. which has triggered the reimplementation of fresh social-distancing measures that could endanger a tepid economic rebound.
The Wall Street Journal, citing the Covid Tracking project, reported that new U.S. cases and hospitalizations both set records, respectively topping 144,000 and 65,000 on Wednesday. In the past week, the U.S. has averaged 128,081 cases a day, up 69% from the average two weeks ago and cases are rising in 49 states and territories
The resurgence of the pandemic has prompted a number of states to reimpose restrictions on consumer and business activity. New York Governor Andrew Cuomo ordered bars, restaurants and gyms in New York State to close at 10 p.m. starting Friday.
Meanwhile, another financial relief package to help American businesses during the epidemic looks doubtful anytime soon, given reports that the Trump administration is stepping back from negotiations and leaving Senate Majority Leader Mitch McConnell to revive discussions with House Speaker Nancy Pelosi.
Against that backdrop, investors appear ready to revert to a trading strategy that has thus far worked this year: buy large-capitalization technology stocks that benefit from the stay-at-home trend. Small-cap stocks were seeing the brunt of the selloff on Thursday, while losses were limited for tech shares.
"With case counts continuing to climb and winter approaching, the prospects for targeted rollbacks and new lockdowns continue to rise," wrote Colin Cieszynski, chief market strategist at SIA Wealth Management, in a daily note.
The resilience of the tech-heavy Nasdaq Composite and Nasdaq-100 indexes NDX, -0.16% comes despite positive vaccine news on Monday from partners Pfizer and BioNTech, that indicated a Phase 3 study of an experimental remedy for COVID-19 had 90% efficacy, which briefly emboldened buying in stocks that have been beaten down during the worst of the pandemic.
Late Wednesday, Moderna Inc. MRNA, +5.45% said the first batch of data from its late-stage test of an experimental COVID-19 vaccine was ready for analysis.
In economic reports, U.S. jobless benefit claims fell 48,000 to 709,000 in early November, and continuing jobless claims in states dropped 436,000 to 6.79 million.
"The fall in weekly jobless claims shows the economic recovery still remains in place, even though jobless claims remain elevated," wrote Kenny Polcari, managing partner, Kace Capital Advisors, in an emailed note on Thursday.
"Rising COVID-19 cases nationwide and the possibility of additional lockdowns could threaten the jobs recovery we've seen over the past few months," he added.
Meanwhile, a measure of the annual rate of U.S. inflation, the consumer-price index, rose 1.2% in October, down from 1.4% in the prior month. Core CPI, excluding volatile food and energy prices, also retreated, rising 1.6%, down from 1.7% in the prior period.
At an ECB panel, Fed Chairman Jerome Powell on Thursday said the development of an effective COVID-19 vaccine was good news but not an immediate panacea for the economy and "significant challenges and uncertainties remain about timing production, distribution, and efficacy for different groups ."
Which stocks are in focus?
How are other markets faring?
The yield on the 10-year U.S. Treasury note TMUBMUSD10Y, 0.894% retreated to around 0.89% on Thursday, from around 0.98% on Tuesday. The bond market was closed in observance of Veterans Day on Wednesday. Yields and bond prices move in opposite directions.
The pan-European Stoxx 600 Europe Index SXXP, -0.87% closed 0.9 lower as London's FTSE 100 UKX, -0.67% ended Thursday trade off 0.7%.
Oil futures were rising, with the U.S. benchmark CL.1, -0.02%, rising 0.9% at $41.84 a barrel. Gold prices were trading sharply higher, with the December contract GCZ20, +0.73% gaining 0.7%, or $12.30, at $1,873.90 an ounce.
The ICE U.S. Dollar Index DXY, -0.09%, a measure of the currency against a basket of six major rivals, was flat.
MarketWatch has launched ETF Wrap, a weekly newsletter that brings you everything you need to know about the exchange-traded sector: new fund debuts, how to use ETFs to express an investing idea, regulations and industry changes, inflows and performance, and more. Sign up at this link to receive it right in your inbox every Thursday.