This
post
was originally published on
this site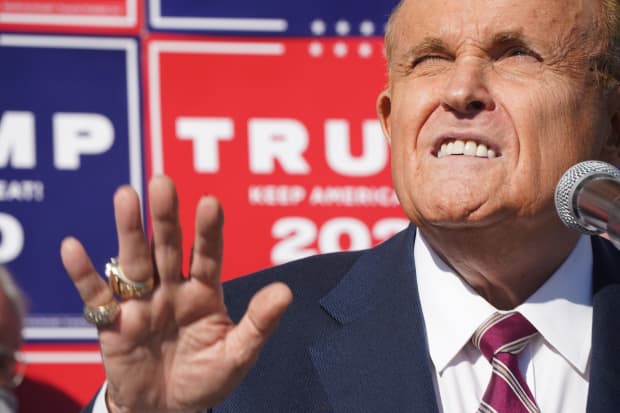 Rudy Giuliani, the former New York mayor and a Trump lawyer, comments on the legal avenues available to the Trump campaign during Sunday's press conference at Four Seasons Total Landscaping on a fringe of Philadelphia.
AFP via Getty Images
President Donald Trump remains confident that he'll be inaugurated as president for a second time Jan. 20, even as key states certify victories for President-elect Joe Biden and the Trump campaign continues to lose court cases across the country.
"Don't be disappointed yet, because this race is far from over," he said during a press conference Thursday. "This thing is a long way to go."
On the contrary, the battleground states of Pennsylvania, Georgia Michigan and Nevada all certified Trump losses in those states last week and more are set to certify results in the week ahead.
Meanwhile, the Trump campaign and its allies have lost 38 cases court cases since Election Day and won just one victory in Pennsylvania state court, which barred the counting of a few hundred provisional ballots in the state Biden won by more than 80,000 votes, according to the progressive voting rights group Democracy Docket.
Several key states are set to certify their results in the coming days and weeks and a handful of lawsuits are still in active litigation. Here are the key dates to watch in battleground states that proved pivotal this election.
Pennsylvania
Pennsylvania Gov. Tom Wolf on Tuesday signed a Certificate of Ascertainment, naming 20 Biden electors to participate in the Electoral College vote.
The Trump campaign's only hope of overturning that decision was a lawsuit in federal court that sought to overturn millions of votes, which was thrown out of court last Saturday by District Court Judge Matthews Brann last Saturday.
"This court has been presented with strained legal arguments without merit and speculative accusations … unsupported by evidence," he wrote. "In the United States of America, this cannot justify the disenfranchisement of a single voter, let alone all the voters of its sixth-most populous state," he added.
The Trump campaign appealed, and the U.S. Court of Appeals for the Third Circuit rejected the appeal Friday.
"Free, fair elections are the lifeblood of our democracy," the decision read. "Charges of unfairness are serious. But calling an election unfair does not make it so. Charges require specific allegations and then proof. We have neither here."
The Trump campaign's deficit of 1.2% of the vote in Pennsylvania is greater than the 0.5% that would trigger an automatic statewide recount. The Trump campaign could mount efforts, with the aid of Pennsylvania voters, to request a recount of any of the more than 9,000 individual precincts in the state. In 2016, Green Party candidate Jill Stein abandoned a Pennsylvania recount effort after a judge required a $1 million bond to be posted.
The Margin: How Trump lawyer Giuliani's Four Seasons press conference ended up at a garden center on Philadelphia's outskirts
Arizona
Arizona must certify the election result by Nov. 30. Arizona GOP Chairwoman Kelli Ward and would-be elector for Donald Trump in the state has filed suit in the state seeking a reinspection of ballot signatures in populous Maricopa County. Four previous such cases have been dismissed, according to Fox's Phoenix affiliate.
Georgia
Georgia officials certified Joe Biden as the winner of the state's 16 electoral votes after a hand recount showed the president-elect winning by a margin of 12,670.
The Trump campaign cut ties with Sydney Powell, a lawyer who claims a vast international conspiracy involving communist governments and compromised election software that was used to change millions of votes in the November election.
Though the publicizing of this conspiracy theory likely led the Trump campaign to distance itself from Powell, the president himself appears to believe that revelations related to Powell's theories will overrun the result there. Powell said on Twitter late Wednesday that she filed suits in Georgia and Michigan formally making these allegations.
Wisconsin
The Trump campaign paid about $3 million to recount votes in the state's two largest counties, Milwaukee and Dane, which includes Madison. The Wall Street Journal reported that Trump poll watchers have been aggressively challenging ballots in a state where Biden won by about 20,000 votes. Election officials told a Wisconsin ABC affiliate that the count will likely be completed sometime Friday afternoon.
Michigan
Michigan election officials certified a Joe Biden victory on Tuesday, and the window for the Trump campaign to request a recount has closed.
Nevada
Nevada also certified its election results on Tuesday for Joe Biden, though there are still several lawsuits pending in the state and federal courts that argue that illegal votes were cast in the state.
Other key dates and deadlines
Dec. 8 is the so-called safe-harbor deadline by which states must choose their electors and send those choices to the Archivist of the United States.
Dec. 14 is the date on which electors will formally submit their votes for president in states across the nation.
On Jan. 6, 2021, the new Congress will meet to count the votes and declare the results.
Jan. 20, 2021, is Inauguration Day.