This
post
was originally published on
this site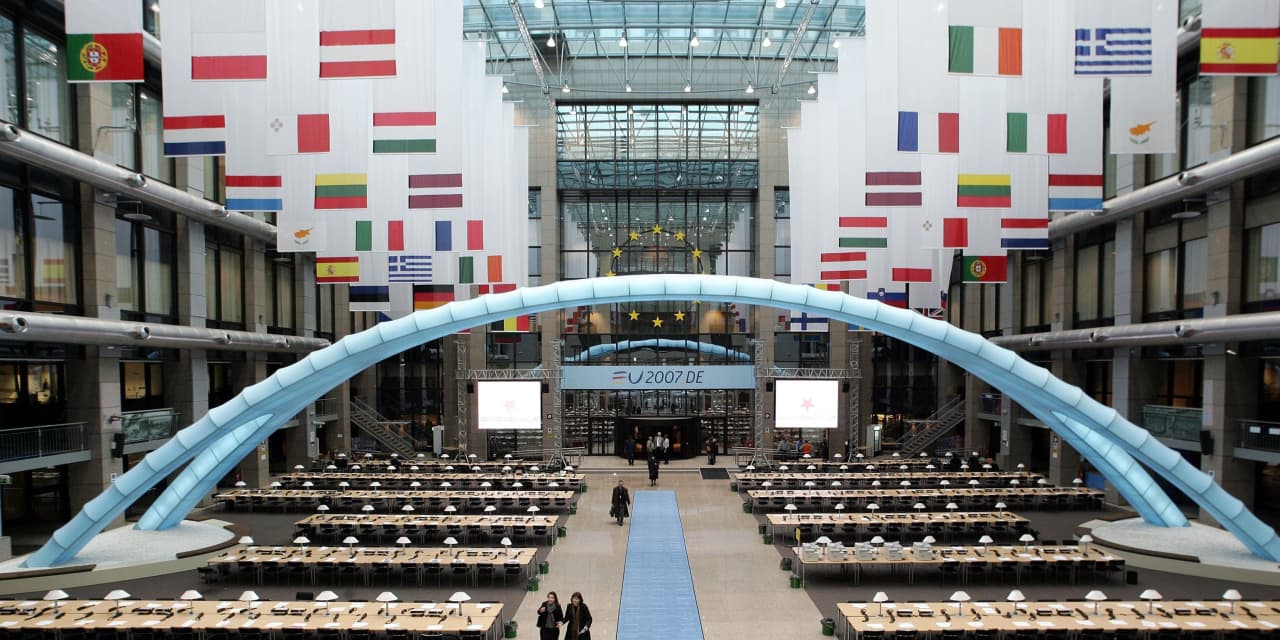 Is it time for a European investment tour? With a number of indicators signaling that U.S. equity market valuations are getting rich, Europe may begin start to look more enticing.
Read: Stock-market values recently reached levels seen on the eve of 1929 crash, by one measure
By one measure, investor exposure to Europe has trailed that of the U.S. and has only recently started to pick up ground in recent weeks, according to a Deutsche Bank research note, tracking hedge funds and commodity trading advisers which use futures to gain exposure to the market.
"CTAs overall equity exposure has risen steadily and is now back to the middle of its historical range. While their exposure to most US equities had turned long by August, their exposure to European equities has only just flipped to long over the past week," wrote DB strategists Parag Thatte, Srineel Jalagni, and Binky Chadha.
Bloomberg reported that some $1.7 trillion flowed into Stoxx Europe 600 benchmark in November alone, as the value drift took hold.
The Deutsche Bank team said that as momentum trends strengthen and volatility subsides, there may be more room for those investors to up their European equity allocations.
Indeed, room to run higher for Europe may be one way to think about it.
So far, the performance of the overall European market has significantly trailed that of the U.S.
On Friday, for example, the Dow Jones Industrial Average DJIA, +0.83%, the S&P 500 index SPX, +0.88% and the Nasdaq Composite COMP, +0.70%, all put in record closing highs, joined by the small-capitalization Russell 2000 index RUT, +2.37%, for good measure.
In Europe, the major indexes have yet to register a record high since the pandemic took hold in much of the world back in March. In fact, the pan-European benchmark Stoxx Europe 600 index SXXP, +0.59% is off 9.2% from its Feb. 19 record close, and the DAX DAX, +0.35% is off 3.6% from its closing peak on the same date.
The U.K.'s FTSE 100 UKX, +0.92% hasn't seen a record closing high since May of 2018, and is off 14.7% from its 52-week peak put in on Jan. 17.
Other indexes in Europe haven't scaled new heights for decades, including the Stoxx Europe 50 index SX5P, +0.79%, which is off 40% from its all-time closing peak in 2000, and 13% from its 52-week peak in February.
To be sure, European stocks have rebounded from their pandemic nadir earlier this year as have U.S. equities but the degree of recovery has been far less pronounced.
The Stoxx Europe 600 is up 40% from its March 18 low and the FTSE 100 is up over 30% since its March 23 low, while the S&P 500 and the Dow have both surged more than 60% from their March lows and the technology-laden Nasdaq Composite is up a mind-numbing 82%.
The value-oriented composition of European benchmarks, which have a greater proportion of cyclical components, banks and industrials, compared with the technology-heavy U.S. markets, can be blamed for some of underperformance across the pond.
But growing hope of highly effective vaccine candidates to fight COVID-19 has sparked a momentary shift to value that may benefit Europe, at least in the short term, some strategists say.
Next week may serve as an inflection point of sorts for Europe as the focus turns to the spike in infections and Brexit negotiations.
Some make the case that Europe has been quicker to the trigger on relief efforts against COVID-19, with U.S. investors still waiting for a further round of fiscal aid to emerge out of Washington after months of haggling, despite the pleas of Federal Reserve officials for more aid for American businesses and workers.
Meanwhile, the European Central Bank could boost its bond-buying program and extend the deadline for the Pandemic Emergency Purchase Programme, or PEPP, when it meets on Thursday, according to reports.
Meanwhile, European Union and U.K. negotiators entered the weekend with possibly only days to strike an agreement, before an EU summit on Dec. 10-11.
Declining rates of coronavirus infection in Europe and the easing of some lockdown restrictions are some of the reasons why the region may be worth a look.
Esty Dwek, head of global market strategy at Natixis Investment Manager, told MarketWatch that investors shouldn't solely be dissuaded by lofty valuations in the U.S. but, notes that Europe could see some short-term benefits from investors looking for value bargain:
"People make a lot of noise about valuations, but higher valuations themselves don't usually stop people when there is risk on sentiment, when earnings are rising and when yields are so low," the analysts said.
"That said, European equities should benefit from the reopening / catch up trade as long as there are no major hiccups with vaccine rollouts, especially with the more cyclical structure of indices in Europe," Dwek said.
"For me, the question might be how long this rotation lasts. A while, but maybe not for all of 2021," she added.