This
post
was originally published on
this site
Donald Trump may not have won the Nobel Peace Prize, as one of his recent tweets suggests, and, contrary to the conspiracy theorists, he may have lost the election, but the president can find solace in the fact that, according to a new Gallup poll, he's "the most admired man" in America.
In total, 18% in the survey named Trump, while Barack Obama, who had held the spot for a record 12 years, received 15% of the vote. Partisanship was the key factor, considering few Republicans named anyone other than Trump, while Obama split his vote with Joe Biden and Dr. Fauci.
Here's the full top 10 Gallup list, which includes the likes of Tesla's TSLA, -0.04% Elon Musk and Microsoft MSFT, +0.47% co-founder Bill Gates: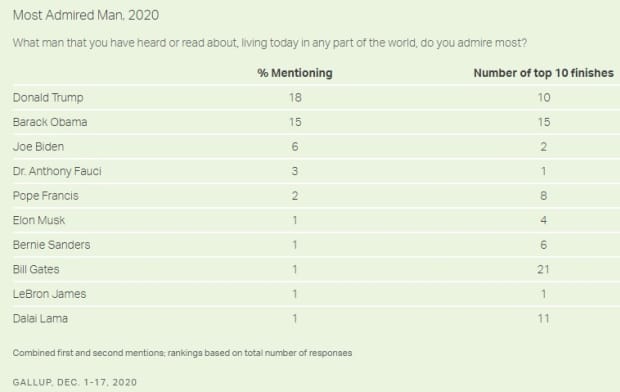 "The incumbent president is usually top of mind when Gallup asks Americans to name, without prompting, which man living anywhere in the world they admire most," Gallup's Jeffrey Jones explained. "In the 74 times Gallup has asked the open-ended most admired man question since 1946, the incumbent president has topped the list 60 times."
In 2017 and 2018, however, Trump's lowly approval ratings opened the door to Obama keeping a grip on the top spot. Trump finished second both years.